The Smith Family

About The Smith Family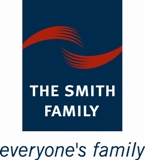 The Smith Family is a national, independent children's charity, helping disadvantaged Australian children to get the most out of their education, so they can create better futures for themselves.
As research has shown, supporting a child's education is one of the most effective ways of breaking the cycle of disadvantage and ensuring they can access the same learning opportunities as their peers. The Smith Family's Learning for Life program supports disadvantaged children and young people all the way through their education, from pre-school and primary school, to senior school and on to tertiary studies if they choose. This holistic, long term support gives young Australians the assistance they need to develop vital life skills, stay engaged in their education and have the best chance to realise their potential.
Petals have been a valued supporter of The Smith Family since 1994, helping to deliver vital education and learning support to disadvantaged children in the New England and northern NSW regions of Australia. Their support provides these children with access to Smith Family literacy programs, mentoring support and financial assistance to help families afford the cost of their children's essential education items.
Please help make Australia a better place for all Australian children, by supporting The Smith Family today.
By ordering flowers through Petals Network 20% of the proceeds go to The Smith Family. These funds will support The Smith Family's Learning for Life programs to help disadvantaged Australian children create better futures for themselves.
For more information visit The Smith Family website